The red KESS V2 V5.017 is the latest OBDII ECU multifunction vehicle programmer. Kess V5.017 Master EU version with Red PCB is verified a decent tool, 1:1 copy in the market, better than Kess V5.017 Master with green PCB.The new KESS V5.017 has an updated fashion look, and uses the updated red PCB (currently the best PCB) to allow the tuner to program more online protocols. The latest red PCB Auto key Programmer KESS V5.017 in 2017 has better quality and performance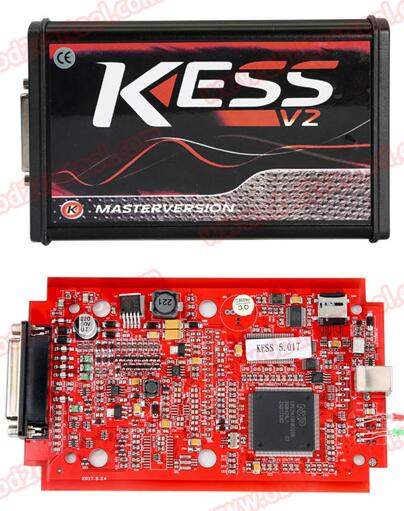 RED  PCB Kess v2 v5.017 ON www.cnautotool.com
What's the difference between Kess 5.017 red PCB and KESS V2 5.017 green PCB?:
1. external Kess stickers are different.
2. the red PCB has the same design as the original Kess 5.017, but the green PCB is different from the original one.
3. hardware V5.017 software V2.23, support online operation.
4.Kess V5.017 Red PCB: 1:1 copy EU version, better performance than Kess V5.017 green PCB.
KESS V2 V5.017 With Red PCB Features
1. With full components PCB board.
2. Better performance,function as well as more online protocols supported.
3. Multi-Languages supported.
4.Perfect for OBD use,Read and write ECU via OBD2 port directly, no need disassemble ECU from the car, easy to use .
5.No reset button,no USB dongle,no tokens limited and has tested by many users as well as our technology department, 100% workable.