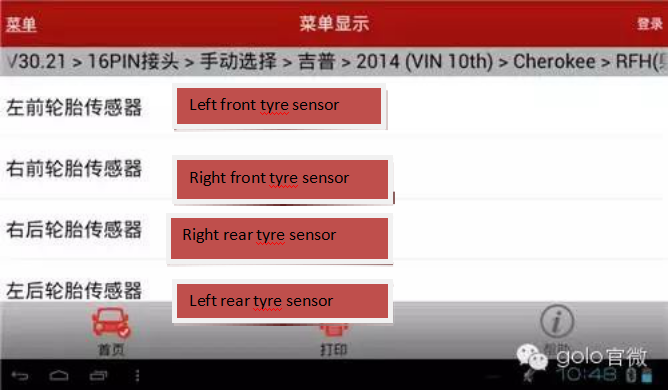 【X431PRO Function】2015 Jeep Tyre pressure sensor programming operation method.
Actual Car Model:Jeep,2015,VIN=1C4PJMCB2EW2*****,see pic1;
Function Description: after changing tyre monitor sensor, The tire pressure monitoring is restudied.
Note:
Operation Instructions
1)Select Jeep software V30.21 above;
2)Select 16PIN connector;
3)Select manual selection;
4)Select Jeep;
5)Select 2014 (VIN 10th)(Actual 2015。);
6)Select Cherokee;
7)Select RFH (Hub);
8)Select"Programming tyre sensor identification" prompt see pic3;
9)After click"confirm",Prompt the requirements of this function .The ID of sensor can be found on the sensor. See pic4;
10)Select the tyre sensor that need be programmed. See pic5;
11)Input the ID of sensor see pic6;
12)Programming the sensor,pic7;
13)Tyre sensor ID programming successful.