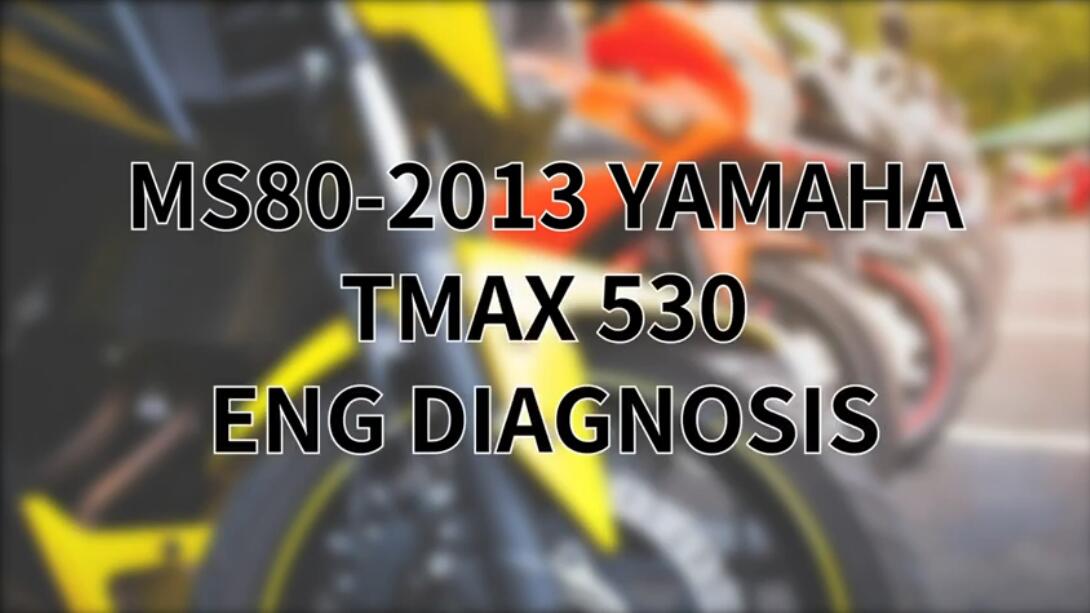 OBDSTAR MS80 has professional-level intelligent diagnosis, providing an unprecedented intelligent diagnosis and maintenance experience-the first fault guidance, technical bulletin, data flow assistance, diag socket, and other functions to help you diagnose accurately and efficiently; exclusive interactive circuit diagram and electrical query system, easy troubleshooting Failure, so you have no worries about the car diagnosis!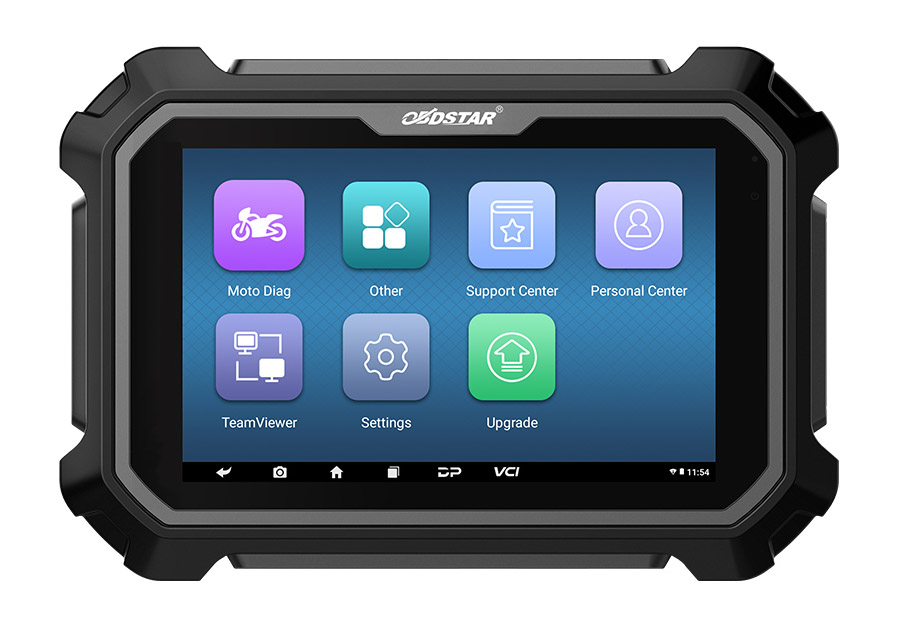 Obdstar MS80 Functions:
1. New Android 5.1.1 operation system
2. Simple and intuitive menu guidance allows you to quickly master the equipment operation;
3. Provide complete diagnostic functions including code reading, code clearing, data flow, action test, setting, coding, etc.;
4. Menu Arbitrary selection is more convenient and quick;
5. Record and play back real-time data streams, quickly and accurately locate sensor and component faults;
6. Wi-Fi connection to the Internet, one-click software upgrade;
7. One-Click remote function, OBDSTAR technical staff remote assistance;
8. Support the fault diagnosis of most of the world's luxury locomotives and tens of thousands of models.
Obdstar MS80 Advantage function:
1. The first fault guidance, Help data, technical bulletin, diag socket, etc. help you diagnose accurately and efficiently;
2. Exclusive interactive circuit diagram and electrical description query function, so that you can have a worry-free diagnosis;
3. Diversified data stream display modes such as text, waveform diagram and instrument diagram, allowing you to easily analyze faults;
4. Automatic scanning, automatic VIN recognition, control module programming and coding, ECU setting, instrument coding, tire pressure monitoring system, maintenance light reset, CO adjustment, idle speed adjustment, A/F value reset, ABS control unit setting , EOL mode, transmission memory reset, clear computer memory, etc.
This article is intended to share with customers the tutorials on OBDSTAR MS80 Motorcycle Diagnostic Tool 2013 YAMAHA TMAX 530 ENG Diagnostic Test.
Operation Procedures:
Plug main cable to OBDSTAR MS80 diagnostic scanner>> Connect main cable with M040 adapter for BMW>> Connect the device to the motorcycle of "2013 YAMAHA TMAX 530.
Click the App "DiagProgram" on desktop>> "Moto Diag">> "YAMAHA">> "YAMAHA V30.32"
The screen appears message of "Initialization Communication"…
After it is done, click "Select from system">> "Auto Scan"
Then, the MS80 diagnostic tool will begin its scanning process.
Prompted message: Turn off the ignition. Just follow what it says.
Click on "Enter" on the bottom right of the screen and it says "Turn on the ignition".
Again, do it as required.
Click on "Enter" button and it will begin communicating.
It requires to "Turn off the ignition"again, repeat clicking the "Enter" button.
This part of the process is repeated several times. Remember: do whatever appears on the Tools screen until it gets into the "Auto Scan" interface.
Click the "Engine Control Unit"
Turn off the ignition-> Enter->Turn on the ignition->Enter, repeat this operation once again.
Under "Information" column, it lists what you can do as below:
Click "ECU Information, the tool starts reading ECU information and show the details as seen: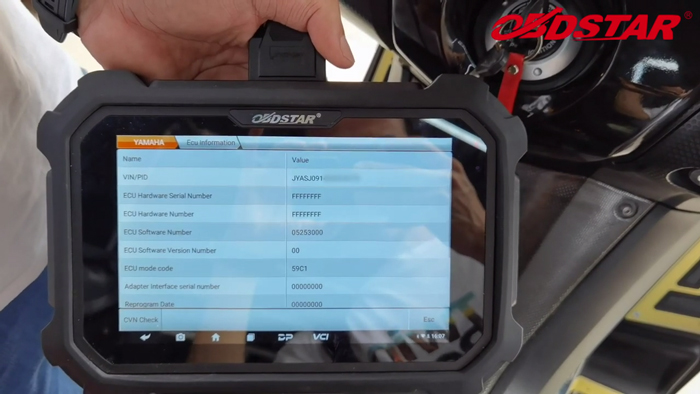 Back to the "Information" column and click "Read fault codes", if there are no DTCs, it will prompt the message of "No fault codes".
Click "Read data flow", the Live data is shown below: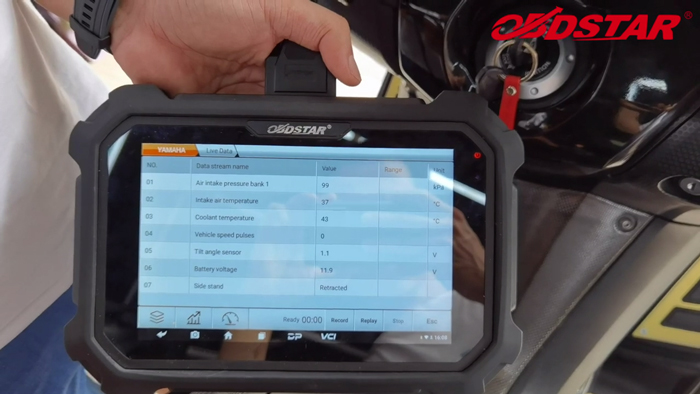 Click "Active Test", you can see: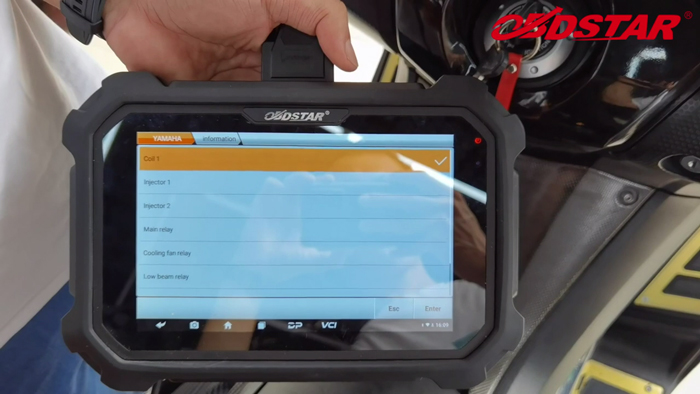 Click "Special Function">> "Writing Frame Number", you can check the exact current frame number of your motorcycle.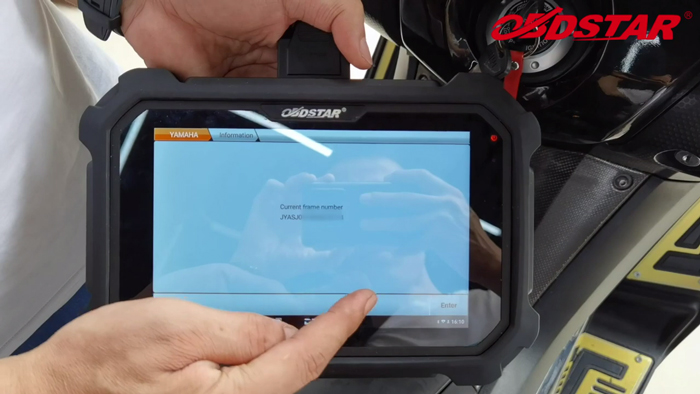 Test Completed!
That's all. Thank you for sharing your time with us!