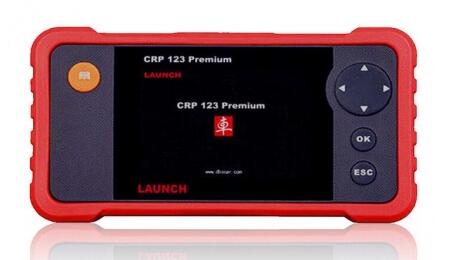 The LAUNCH Creader CRP123 Premium Edition is a handheld diagnostic tool used to detect and report the cause of vehicle faults. It boasts state-of-the-art hardware and software making it one of the most accurate diagnostic tool in today's market.  All this along with its compact design and full colour screen, the Car Diagnostic Tools Premium is easy to use and understand while not being in the least bit cumbersome.
Works with all vehicles compliant with EOBD/OBDII (petrol vehicles from 2001 and diesels from 2004).
The CRP123 Premium on www.cnautotool.com amalgamates the best features of code scanners and professional mid-line scan tools. It opens up a whole world of diagnostics, which is further improved by its enhanced data streams for ABS, SRS, Transmission and Engine; which is available across a wide range of makes and models.
With all the operational ability of a traditional ARS/SRS Code Reader the CRP123 Premium boasts a great deal more functionality such as live data streams, coverage for Asian, European and American vehicles and the ability to scan transmissions.
Functions of CRP123 Premium include:
●  Complete Asian, European and American coverage for ABS, SRS, transmission & engine
●  Enhanced data stream for ABS, SRS, transmission & engine
●  Auto-vehicle Id, Auto module search and ultra-fast protocol ID
●  Reads and clears codes on engine transmission (A/T), ABS and airbag (SRS) systems
●  Includes all functions of previous CReader models for OBD Generic
●  Support for all 10 test modes of OBDII with enhanced OBDII Mode 6
●   Retrieves generic and manufacturer specific code – both permanent & pending
●  Turn off malfunction indicator lamp (MIL)
●  View freeze frame data and I/M Readiness monitor status
●  Graph, record and replay data in full colour
●  Enhanced help functions
●  Intuitive interface & button operation with sleek, rugged design.
●  Internet updateable
●   Print data via PC
Specification:
●  4" TFT full colour display
●  Language options: English, Spanish, French
The CRP123 Premium is a convenient and handy tool that makes collecting and reading diagnostic information easy and most importantly, accessible.
This product comes access to valuable software updates which are released by Launch over the internet.
If the CRP123 Premium from www.obd2tool.com does not meet your requirements take a look at the CReader CRP129, which has all the abilities of the CRP123 Premium and adds, EPB reset, Oil Reset and Steering Angle Reset.
Warranty
Unlike the vast majority of other sellers who will only offer a one year warranty, Launch UK are offering an exclusive two year UK warranty on this unit.