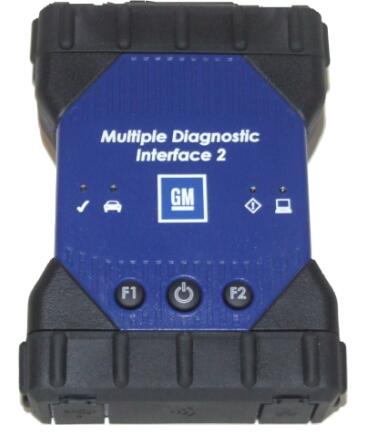 The GM MDI 2 is the next generation Global Diagnostic Interface tool for both current and future vehicles. It's a compact communication module with increased processing power and security that manages the transfer of data between a vehicle's onboard ECU network with an auxiliary CAN bus.
The GM MDI 2 replaces the MDI introduced in 2007 and offers faster programming speed than the GM MDI. The MDI 2 can be used to perform Pass-Thru programming on all GM vehicles built since 1996 and into the future.
Servicing the current generation vehicles will require the diagnostic software, GDS2, Global Diagnostic System 2 running on a local PC device while the MDI or MDI 2 is connected to the vehicle.
The MDI 2 connects to the vehicle via the OBD II connector using a new DLC cable. Connection between the MDI 2 and the PC can be accomplished via standalone (USB) or through a NEW Point-to-Point wireless feature, and the shops network (CAT5, or Wireless).