FREE Setting EST-2018A v1.0 (JLCG2109 – Genset Only), Electronic Service Tool for PERKINS Engines
Instructions:
1. Install EST-2018A, download here: Perkins EST 2018A v1.0-E1 (Build 1941)
2. Install Patch Files (x64 or x86), download here:
PatchFiles x64 Installer
PatchFiles x86 Installer
3. Run "1 HWID Tool", save to Notepad, then send to my email: Contact Us  download here: 1 HWID Tool.exe
4. I'll help to create an "activation.key" file to activate your EST-2018A.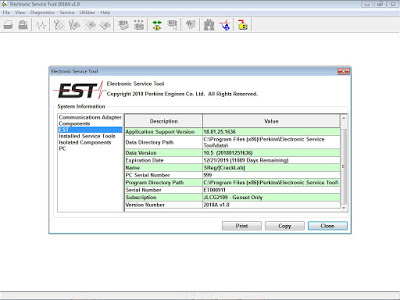 5. Copy an "activation.key" to folder:
-C:\Program Files (or Program Files x86)\Common Files\Offboard Information Products\2018A\Comet
-C:\Program Files (or Program Files x86)\Common Files\Offboard Information Products\2018A\Flash