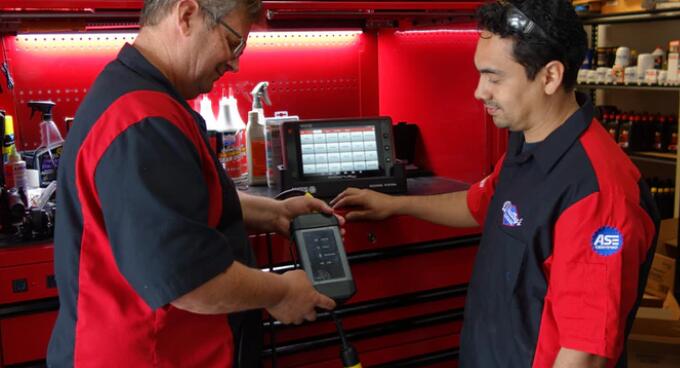 There are essential items and key differences in features and functionality to note, separating the heavy duty aftermarket scan tool market.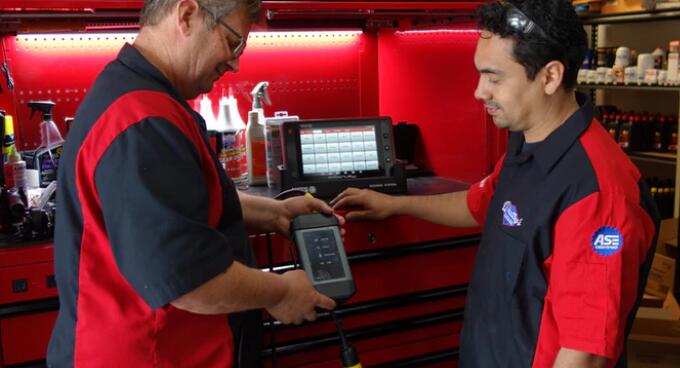 "When it comes to diagnostics, it really starts with the relationship you have with the customer first," says Matco Tools distributor Kelly Chancey. "That's everything. Anything you sell – number one, it will be the relationship with the customers. If you have a good working relationship and they buy a lot from you, they'll buy from you first."
At first glance, a heavy duty aftermarket scan tool appears relatively similar to the traditional light duty aftermarket offerings many mobile tool distributors are already familiar with. Even before hooking up the tool to a vehicle though, there will already be physical differences between the two tool types.
The first physical difference many notice between light duty and heavy duty scan tools is the connectors used to connect the tool to the vehicle. Light duty vehicles use the standard 16-pin OBD-II connector. While some medium duty vehicles may also require this same OBD-II connector, there are also 6-pin or 9-pin Deutsch connectors used for many medium duty and heavy duty vehicles.
"There's not a push on the manufacturers to unify or make a single type of protocol or single type of connector or information," says Michael Flink, director of TPMS and commercial sales North America, Autel. "There's not anything driving them (truck manufacturers) to make that information available outside of their dealerships. That slows down how well the aftermarket tools are able to access things."
In addition, Matt Stein, senior product manager, Bosch, confirms the different internal makeup of heavy duty scan tools such as the software which uses "different error code and data standards as well as unique communication protocols." Not to mention the difference in how the heavy duty vehicle system is organized and accessed.
Heavy duty shops want access to system modules.
It's important to first understand the makeup of a heavy duty truck.
Auto manufacturers are typically the proprietor for most, if not all, vehicle information systems in the vehicles they sell. Conversely, a heavy duty truck can be composed of a variety of systems made by different original equipment (OE) manufacturers.
"Heavy duty trucks are built with many different system manufacturers," confirms Stein. "Engines, transmissions, brake and other systems are supplied under unique brands and mixed together in more unique combinations than the automotive market. The variants of all these combinations cause a much deeper coverage effort for a good heavy duty tool when compared to automotive scan tools."
Known as "spec'ing" a vehicle, a heavy duty trucking fleet may opt to customize the trucks they purchase to be optimally suited for specific needs. Spec'ing is more common in the U.S., compared to trucks in European or Asian markets.
"Usually a guy wants to know if it will read major modules like engine, instrument panels, brakes, transmission, if applicable," explains Mac Tools diagnostic technician representative Ron Hambrick, when heavy duty technicians inquire about scan tool functionality. "Where in light duty or passenger vehicles… when you're diagnosing a car, you want to know if it (the scan tool) will hook up and read that brand, that nationality of origin – European, Asian, domestic."
This inherently changes how a heavy duty truck is diagnosed, because a heavy duty technician may need to access to both the OE vehicle manufacturer – say, Freightliner – as well as the other separate vehicle systems included on the heavy duty vehicle, manufactured by separate OEs.
"With heavy duty [vehicles], year-make-model is not nearly as important as the individualized systems," adds Flink, Autel. "With a truck, you can actually line up two Freightliners, for example, that are absolutely identical but you're really looking at the shell Freightliner made. What's inside that shell can be completely different and custom-ordered by the user for different engines – Detroit Diesel, Cummins, Caterpillar, different transmissions like Allison and Meritor, different brake systems like Wabco and Bendix, and so forth."
Heavy duty diagnostics cost more than light duty diagnostics.
The cost of access to this system information can add up quickly.
"The heavy duty market is so individualized in the respect that to buy original equipment information from each one of the companies, you have to purchase a Cat program, a Cummins program, a Volvo/Mack program, a Detroit program – if you start covering the gambit of what the aftermarket tools will cover, you're talking probably $60,000 to $70,000 worth of OE tools," Cornwell Tools district manager Ken Hansen says.
With the advent of aftermarket tools now on the market, heavy duty shops have an alternative choice to purchasing separate OE scan tools.
Factors such as the relatively new technology in both the heavy duty vehicles being diagnosed, and in the tools being manufactured to handle this diagnosis plays a role in cost. In addition, there's not the same standardization as the light duty side. There are multiple adapter requirements depending on the system of the vehicle being serviced.
"Price is probably one of the biggest downfalls when dealing with trucks versus light duty [scan tools]," says Matco Tools distributor Vasil Vasilev.
He confirms the purchase of a tablet or laptop, in addition to the kit and software can run upwards of $10,000, not including additional costs associated with software updates or licensing.
Conversely, a full-function OBD-II enhanced light Truck Scan Tool would cost less than $4,000.
Plus, he adds, "even if you don't buy the following year's update, you can still use the scanner to its full capacity," Vasilev adds, regarding aftermarket updates versus licensing.
Keep in mind, however, the price of the heavy duty aftermarket scan tool is still thousands less than a heavy duty truck shop might pay for access to the different OE systems separately.
Like most new technologies available to a market, as more manufacturers develop and sell heavy duty scan tools, and more tools become readily available to aftermarket shops, the price will likely decrease.
Heavy duty software updates and licensing is behind the light duty market, but it's quickly catching up.
Most light duty aftermarket scan tools today have access to extensive and frequent software updates to have the most current tool coverage. More continual heavy duty aftermarket scan tool updates are just beginning to become more common.
"Where in the light duty scan tool segment, model year coverage is more current with software updates being released quite frequently by most light duty scan tool manufacturers, such isn't the case in the heavy duty scan tool segment," explains Victor Rivilla, marketing director, CanDo International. "This is caused by the lack of standardization of protocols and the ultra-proprietary systems of the heavy duty OEs. Most heavy scan tool manufacturers release updates quarterly at best, albeit with rather spotty coverage."
The shift continues to focus on simple and more frequent software updates for heavy duty aftermarket scan tools.
Rivilla says a shift has already begun on the heavy duty aftermarket side, using CanDo as an example. He says the company regularly receives feedback from aftermarket truck shops and will provide updates on a more frequent, as-needed basis. He says customers have access to download these updates on the company's website.
"Software is always in need of development, and the ability of a manufacturer to quickly make available improvements to that software is paramount," says Harlan Siegel, Vice President, Launch Tech.
Siegel confirms Launch Tech offers weekly updates for all of its aftermarket diagnostic scan tools, including its heavy duty offering.
While regular software updates are becoming more common for heavy duty aftermarket scan tools, some of these diagnostic tools may still require a licensing agreement to access the necessary OE coverage as well.
The drawback to license agreements is the tool requires an updated agreement to access the scan tool coverage; whereas scan tools with aftermarket software updates will have full functionality for all systems and modules to the point of that last software update.
"One of the things that a lot of these heavy duty scan tools have a problem with is the proprietary information from Cummins, Bendix, some of the big suppliers of parts," says Matco Tools distributor Kelly Chancey.
With many Heavy Duty Scan Tool Chancey has seen in the market, he says "you have to purchase [the tool] and go back in and get with the manufacturer and purchase the additional software."
Shops will need to evaluate the cost of updating or maintaining the scan tool. Does the tool require a per-basis, monthly or annual subscription cost for licensing? Does the scan tool manufacturer offer a free year of unlimited updates?
"After you buy the tool, what does it cost to keep it going year after year to make sure you can fix any vehicle in your fleet or shop?" says Bosch's Stein.
"It's kind of the same thing as the light duty market – it's the investment of the purchase and the investment of keeping it updated," Siegel adds.
Cornwell Tools' Hansen confirms the units his dealers sell come with a full year of free updates, and says he has seen the progression of aftermarket heavy duty scan tool updates with updates occurring more frequently.
"I think heavy duty is starting to keep up with automotive as far as how often their updates are coming out," he says.
Aftermarket diagnostics options are a relatively new concept to heavy duty shops.
Many distributors in the industry are familiar with the term "throwing parts" at a vehicle. This happens when a technician doesn't absolutely know the issue of the vehicle, but will replace parts based on the most likely or well-known cause. This is a trial-and-error approach, and it doesn't always work.
"A lot of shops, it just comes down to hanging parts. Find a code, and hang the most common part that causes that problem because they don't have the diagnostic information available," Cornwell Tools dealer Nate Miller explains.
While automotive aftermarket diagnostics is nothing new, some heavy duty shops seem to be content to have access to any vehicle information.
"The heavy duty truck market, from what we've seen, is very grateful to have an aftermarket offering to get some of this [diagnostic work] done," says Launch Tech's Siegel. "Where, in the automotive market, it's already an expectation. Plus, you already have a lot of competitors that are already in that space."
There have been some heavy duty diagnostics on the market for a few years. These tools have provided extensive vehicle coverage, but can be costly.
"Selling to a heavy duty truck shop… they don't know they have a lot of options," says Pete McCann, Cornwell Tools, when it comes to selling aftermarket diagnostic tools. "It's a little bit simpler to sell light duty, because they kind of have an idea of what they're looking for, versus the truck shops not knowing they have a lot of choices."
"In the heavy duty market, there hasn't been, until recent years, much competition for scan tools," adds Mac Tools distributor Brian Davis. "Heavy duty scan tools at the OEM level are new to the marketplace. The new aftermarket scanners have become competitive with dealer-level tools, without paying an absolute arm and a leg."
While light duty vehicle diagnostics has been standardized with the introduction of OBD-II emissions standards in 1996, heavy duty diagnostics has not had this type of standardization across the industry, until now. This is another reason heavy duty aftermarket scan tools are becoming more readily available.
With the need for different vehicle systems – such as the engine, transmission or brakes – to communicate with one another, a rudimentary standardization has been developed for heavy duty vehicles.
"They started to need a universal language to make sure all the modules could talk to each other," Autel's Flink explains. "That's where this idea of heavy duty standard came about. Similar to what we think of as OBD-II in the car world, where it made it all the same. It's a little more complex than that – for reference that's an easy way to think of it."
Heavy duty shops want a full-function aftermarket scan tool, too.
Once heavy duty technicians are aware tools exist to assist with heavy duty diagnostics, they want and can utilize the same capabilities as any other technician in the industry including bidirectional vehicle testing capabilities, parameter controls and wiring diagrams.
Bidirectional controls, or the ability to control systems of the vehicle using the scan tool interface, provides technicians the ability to complete different testing and diagnostics on vehicles. A simple example: opening or closing the automatic windows using the scan tool, instead of the switch on the vehicle itself.
"What they're really after is when a tool can do parameter setting and coding — that's where they are actually able to change parameters for how a truck works," Flink explains. "When you get into the engine systems in heavy duty, that can get into the ability to select from different horsepower options, where it changes the whole curve of how the engine works – injectors, turbochargers, rpm – actually changing the horsepower capability or output of the engines."
So what other types of bidirectional capabilities are shops looking for? One function across the board is "forced regens."
Short for forced regeneration, forced regens involve resetting the parameters for a heavy duty diesel engine's diesel particulate filter (DPF).
In addition, Mac Tools' Hambrick says there are a number of other functions.
"They're looking for fuel injector-type questions – can it code injectors? Can it do injector cut-out? Can it do road speed changes? Foot pedal changes? Cruise control changes, rpm changes," Hambrick says. "There are quite a few bidirectional controls."
Diagnosis and bidirectional controls are not limited to the trucks themselves; heavy duty technicians may also need to access to trailer systems.
"On trailers and ABS, they're looking for wheel speed sensor control, tilt function control, things like that," Hambrick says.
The terminology for heavy duty systems is similar, but different, compared to light duty vehicles.
Cornwell's Miller previously worked as a technician prior to selling tools. With that, he has some familiarity with using aftermarket scan tools. However, he has found differences in the wording of some of the different tool functions with heavy duty scan tools, versus the light duty scan tools he's familiar with.
"With the heavy trucks, it's a little bit different wording, but once you understand how it's worded, then you'll find the same information," Miller says. "For instance on a Ford pickup with an International 7.3(L engine), on a light duty scan tool you might find a reading of "high pressure oil pump pressure" usually 500 or 600 psi. But on heavy duty trucks it's called injector control pressure. The same thing, same reading, just different name."
Certified truck dealerships are also a viable customer prospect.
While it goes without saying an independent heavy duty truck shop will use a heavy duty aftermarket scan tool, dealer-certified truck shops may also have a use for this product. Similar to the used car department of a dealership, while dealer-certified truck shops may service primarily one brand, they're more likely to see a variety of vehicles and vehicle systems in the bay.
Cornwell Tools' Miller says he has worked with customers who are certified truck dealers, that can also find use for heavy duty aftermarket scan tools.
"Some of the International dealers have their own software, but if they have something else that comes in they don't really have any way to communicate with it," Miller says.
"I think it's a great customer to approach," Mac Tools' Hambrick adds, about approaching truck dealerships. "I think they understand a need for a scan tool much greater than a guy that's done it for 25 years by ear. If they're a branded shop, then they've had OEM scan tools in their hands, they know the difference between using them and not using them. So, it's a much easier sell. It's a much easier conversation to have, than someone who has never used a scan tool or seen the ability of one."