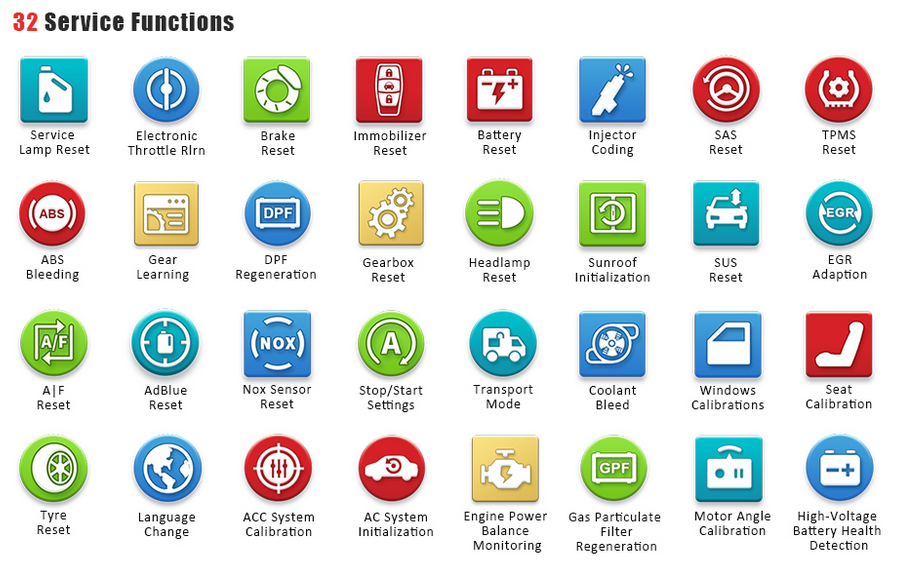 Launch X431 PAD VII Pad 7 Full System Diagnostic Tool Support Online Coding and Programming
X-431 PAD VII is an unexpected high-end diagnostic tool from LAUNCH, comes with the ADAS calibration function, 26 service functions, TPMS service and 8 extended modules functions. New Smartlink C VCI powers technician a new diagnostic level without the limitation of diagnostic functions, tools and vehicle types.
Highlights:
Free update online for 1 year
With 32 services functions
Online Programming: BMW, Benz, VW, Audi, Seat, Skoda, Porsche, Nissan, Infiniti and many coverage from Smartlink
Supported Language: English, Chinese and other language depending on the car makes
Note: Online Programming function has not been authorized in the USA, Canada, and Spain.
Features
Full system vehicle coverage for U.S., Asian and European markets over 110 brands, which is continually updated
Upgrade and expand the X-431 PAD VII with more software and service via the new module 'MALL' as demanded
Real-time voltage display helps technician to monitor the voltage condition of vehicle during the diagnosis
Topology mapping gives a visual checking on DTCs and all systems communication status
Support automotive communication protocols CAN/CANFD/DoIP and automotive communication standards J2534/D-PDU/RP1210
Auto-detects the communications protocol of the vehicle and assist to check automotive OBDII port pin damaged or not
Intelligent diagnostic enable identify VIN automatically and access system quickly
Guided function for VW and AUDI
Optional ADAS calibration function increases more revenue
Advanced coding and programming function
An extended solutio to support TPMS service
2.4GHz & 5GHz dual band communication ensures quick and stable connection
Empower technician to diagnose light, medium & heavy duty vehicles with Smarlink C
The basic functions include read & clear DTC, remote diagnosis, Bi-directional control, live data graph, wireless software update etc.
Build-in repair information and training video modules help to track and fix
32 Service Functions:
Service Lamp Reset
Electronic Throttle
Brake Reset
Immobilizer Reset
Battery Reset
Injector Coding
SAS Reset
TPMS Reset
ABS Bleeding
Gear Learning
DPF Regeneration
Gearbox Reset
Headlamp Reset
Sunroof Initialization
SUS Reset
EGR Adaption
A/F Reset
AdBlue Reset
Nox Sensor Reset
Stop/Start settings
Transport Mode
Coolant Bleed
Windows Calibrations
Seat Calibrations
Tyre Reset
Language Change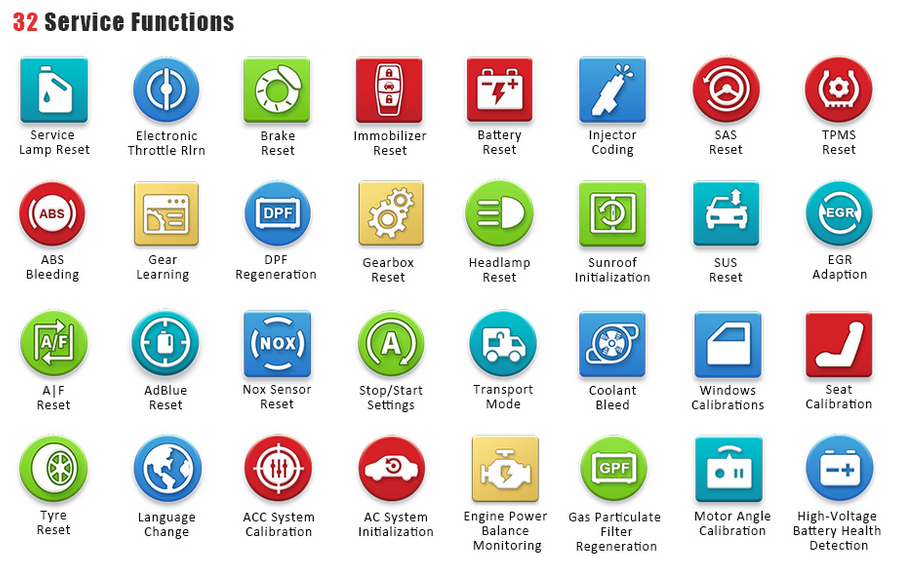 Specification: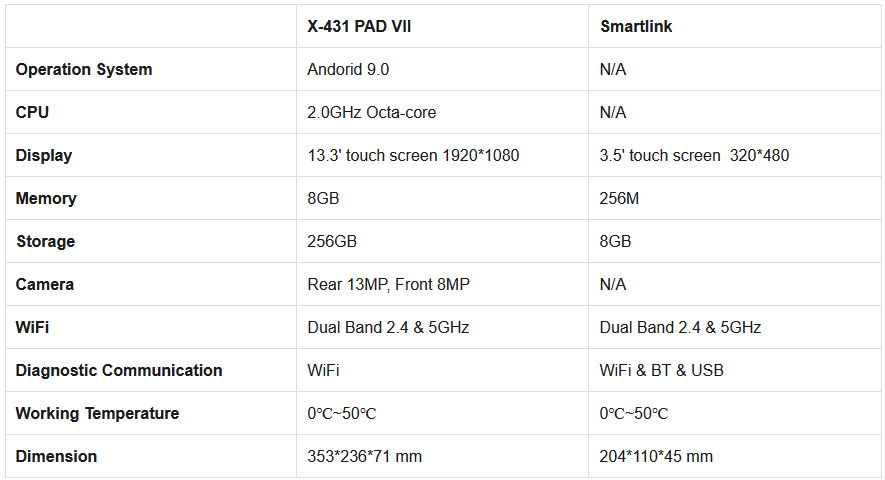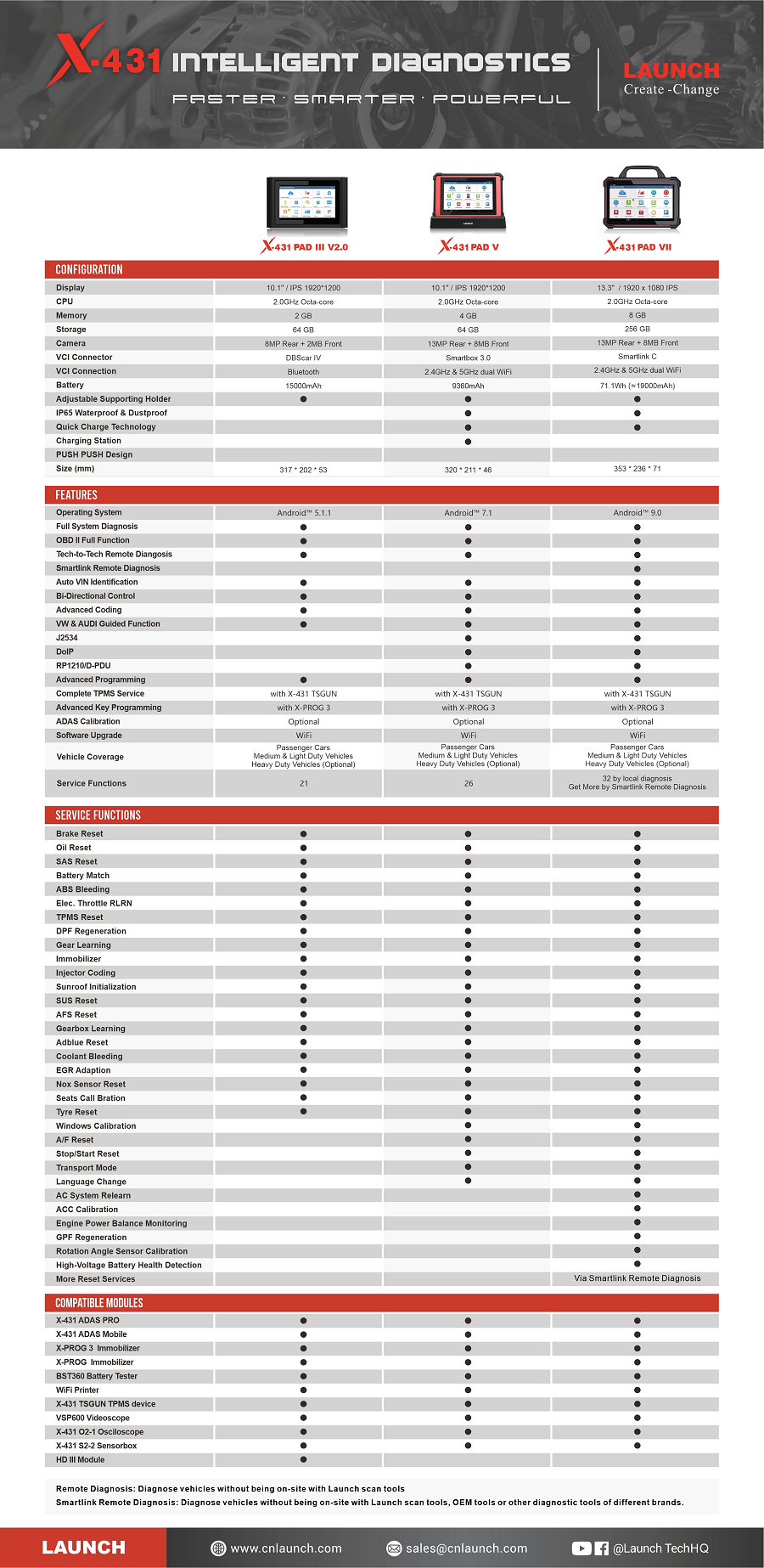 Passenger vehicles:
Australian:  AUST Holden, AUST Ford
Asian: Toyota Lexus, Honda/Acura, Mazda, Subaru, Nissan Infiniti, Mitsubishi, Hyundai, Isuzu, Daihatsu, KIA, Daewoo, Suzuki, Proton, Tata, Mahindra, Ssangyong, Perodua, Maruti
European: Audi, Mercedes Maybach, BMW MINI Rolls Royce, VW Bentley Bugatti, Opel Vauxhall, Peugeot, Citroen, Volvo, Sprinter, Renault Dacia, Fiat Romeo Abarth Lancia, Rover, Landrover, Saab, Seat, Skoda, Smart, Maserati, Ferrari, Arston Martin, Porsche, Jaguar
USA: USA Ford/Lincoln, GM, Buick, Cadillac, Chevrolet, Chrysler, Dodge, Jeep
Chinese: Changcheng (Great Wall), Geely, Qirui_TY(Cherry), Futian, Changan, Changhe, Haifei ….etc.
Heavy Duty Vehicles (Optional):
Software Coverage:
Nissan (Diesel)
Mitsubishi (Diesel)
USA Ford Diesel, Kenworth
Astra, Benz Heavy Duty,  Bosch Diesel, China Heavy Duty, Cummins Heavy Duty, DAF, Delphi Diesel
Denso Diesel, FAW Liberation, Foton Auman, FUSO, Hino, Hyundai Heavy Duty, Isuzu Heavy Duty
Iveco Heavy Duty, JAC Heavy Duty, Mack , MAN , OBD Heavy Duty, Scania, Shangchai Diesel, Volvo Heavy Duty
WP Diesel, Airbus, Allison Transmission Box, Ashok Rejlander, Bendix ABS, Caterpillar Heavy Duty
Chai Heavy Vehicle, Chaoyang Diesel, Construction Machinery, CREDO Heavy Vechicle, Detroit Engine
Dongfeng Commercial Vehicle, Dongfeng Yufeng, Doosan Engine, Freightliner Heavy Duty Truck
Full Diesel Diagnosis Software, Haldex ABS Heavy Duty, HD_ABS System, HD_GoldenDragon, HD_International
HD_Kinglong, HD_Maxxforce, HD_Tata, HD_Western_Star, Heavy Truck Presentation Software
IRISBUS HD, IRIZAR HD, NEOPLAN HD, Peter HD, Renault HD, SETRA HD, Stannic Bavin, Sterling HD
Sunlong Bus, Sunwin Bus, UD Trucks 2F Nissan Diesel, WABCO ABS, Yang Chai Engine
Powerful special functions:
Component Replacement, Cylinder Compression Test, Injector Cut Out Test, DPF Regeneration
Communicates with ABS & Transmissions from Bendix, Wabco and Allison
Tech to Tech remote communication function