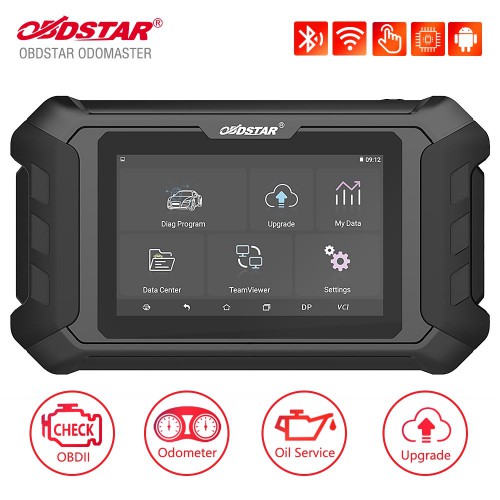 Cluster calibration tools comparison: Yanhua Digimaster 3 or OBDSTAR odomaster or godiag gd801 or obdprog m500 or Digiprog III, which one is the best one out of these? and what's the best place to buy it from?
Yanhua Digimaster 3 Pros:
A comprehensive Cluster Calibration tool meeting the needs of those who also require some other advanced options including key programming and airbag reset. It can perform cluster calibration by OBD, by disassembling the meter or by disassembling the chip. Digimaster 3 has a wide vehicle coverage.
OBDSTAR Odo Master Pros:
OBDSTAR ODO Master is an OBD cluster calibration tablet. It is the upgraded version of OBDSTAR X300M with wider and newer vehicle coverage. It help calibrate the cluster via OBD without dismantling the meter or the chip. It comes with help and operation guide, the operation log is allowed to upload to the OBDSTAR server automatically without manually uploading.
Digiprog III Pros:
Digiprog III is the most cost-effective odometer master programmer suitable for people who needs the function but do not want to pay too much.
Digiprog III Cluster Calibration tool comes with the touch screen, it can correct the mileage by OBD, by disassembling the meter or by disassembling the chip. It has a wide vehicle coverage.
OBDSTAR X300M Pros:
OBDSTAR X300M is a professional cluster calibrate tool, adjust mileage via OBD without removing chip, it has simple operation and greatly reduce the risk of instrument damage due to disassembly. It is free update lifetime.
GODIAG GD801 Pros:
godiag gd801 is also a professional cluster calibration tool via OBD without disassembling the meter and chip. Besides, it has more options such as oil service reset, OBDII scan, help etc. it can be connected to the Internet, and works with newer vehicle models. It allows you to upload the log to the server without manual feedback especial when you have any problem.
If you find OBDSTAR X300M can't support the car model or not works with the newer cars, and you think odomaster is much more expensive, then go to buy one GODIAG GD801.
obdprog m500 Pros and cons:
obdstar is the maker of the software and producer of the tool, so obdprog m500
get their support from obdstar.
obdprog m500 update is later than obdstar odomaster which keeps up the newest update, and odomaster is available with European version (more European cars), US version (target at American version).
Product
YanhuaDigimaster 3
OBDSTAR ODO Master
OBDSTAR X300M
Digiprog III
GODIAG GD801
Image
 
Price
$938
$749 (EU /US version: $699)
$219
$139
$599
Language
English
English
English
 English, Deutsch, Espanol, French, Portuguese, Italiano, Turkish, Nederlands
English, Italian, Russian, German, Spanish, Polish, Portuguese, French
Update
Online update, no tokens limited, Item NO. SP78 with extra 200 tokens to update free. Item NO. SP78-B with 1080 tokens.
1 year free update, $300USD/year when overdue.
For newer cars, please choose ODO Master.
Need to return main unit for upgrading.
One-Click Upgrade. Free Update Online for 1 Year, after expiration, it will cost $149/year.
Odometer adjustment way
By OBD2, or dismantling the meter, dismantling the chip.
By OBD2
By OBD2
By OBD2, or dismantling the meter, dismantling the chip.
By OBD2
Main functions
Cluster calibration, audio decoding, airbag reset, engine ECU resetting, IMMO, PIN code reading, BMW&Benz key programming.
Cluster calibration, OBDII scan, oil service reset, read and clear trouble codes
Cluster calibration / OBDII scan / MQB
Cluster calibration, Assyst processing, EEPROM programmer, read/erase fault memory, integrated PC communication.
Read OdometerWrite Odometer

Read Flash

Write

Flash

Read Eeprom

Write Eeprom

Vehicle Coverage
Digimaster3 Vehicle Coverage

OBDSTAR ODOMaster Vehicle Coverage

OBDSTAR X300M Vehicle Coverage

Digiprog III Vehicle Coverage

GODIAG GD801 Vehicle Coverage